50 households were provided food items through our donation to LEDARS for emergency relief in the aftermath of Cyclone Yaas
Details

Category: News
Published: Monday, 05 July 2021 14:51
Written by Amal Rahman
On 26th May 2021, the southwest coastal areas in Bangladesh got struck by Cyclone Yaas. The aftermath of the cyclone led to a breakdown of the coastal embankments. The collapse of coastal embankments has caused the roads around them to flood and break down. This has led to a major disruption to public life and has flooded homes in the nearby villages, causing several people to be displaced. Since much of the area is flooded, food is scarce.
In reaction to this event, Pilot4DEV mobilized the resources it gathered through the Climate Resilience Fund to support LEDARS in providing relief to the local residents. We are happy to announce that our donation was allocated and helped provide relief to 50 households in villages located in the southwest coastal areas of Bangladesh.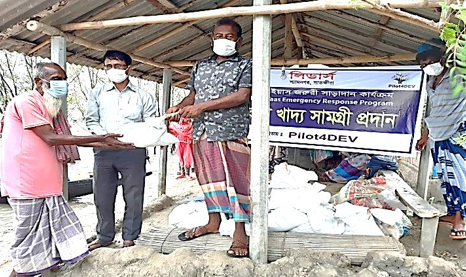 The distribution of the packages took place on June 29, 2021. The food support financed by Pilot4dev included 5kg of rice, 500mg of Lentils, 500ml of Soybean Oil, 500mg salt per household. In addition, LEDARS provided 5 protective masks.
The residents were very grateful for the support organized by LEDARS and backed by Pilot4dev, receiving appreciation from local leaders. As pointed out by Mr. Kamrul Islam, the Local Leader, "It is a good effort of LEDARS, and on top of that, LEDARS is performing national level lobbying for meeting the desire of the southwest coastal people, which is extremely significant for the people of this area."
We were glad to be able to help LEDARS in its mission to support locals from Bonnotola village and very thankful for LEDARS Bangladesh to have used our donation for this emergency relief program.
Our Climate Resilience Fund is still open and we are still trying to gather as many donations to our Climate Resilience Fund as possible in order to provide relief to areas struck by natural disasters and support local organizations of our network in their response. You can find the link to the crowdfunding page here.
LEDARS an NGO in Bangladesh working for the environmental, social, and economic of poor and marginal people in this region, has been actively supporting the residents through emergency relief programs. You can find more about the organization here.